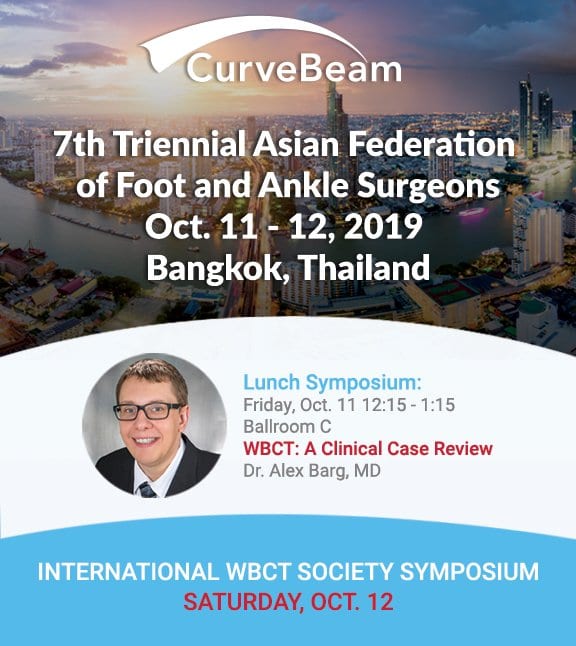 AFFAS 2019: Gaining Knowledge, Sharing Expertise
CurveBeam will be exhibiting at the 7th Triennial Asian Federation of Foot and Ankle Surgeons (AFFAS) Scientific Meeting in Bangkok, Thailand. Scheduled for October 11 – 12, 2019 at the Centara Grand and Bangkok Convention Center at CentralWorld in the heart of Bangkok, AFFAS 2019 provides a unique opportunity for orthopedic foot and ankle professionals from around the world to come together to exchange knowledge and innovation in the clinical and research issues currently shaping the specialty.
CurveBeam Lunch Symposium
Join CurveBeam on Thursday, October 11, for a Lunch Symposium  in which Dr. Alexej Barg, MD, of University of Utah Orthopedics, will be presenting a Clinical Case Review on WBCT. The Symposium will take place 12:15 p.m. to 1:15 p.m. in Ballroom C.
WBCT Society Symposium
Then, on Friday, October 12 in Ballroom A&B, the International WBCT Society will be hosting a special WBCT Symposium. Dr. Barg's Presidential address will kick this event off at 11:20am with these highly anticipated presentations to follow:
Time
Presentation

 

Presenter
11:25am-11:35am
Experience on 11000 Cone Beam WBCT

 

Martinus Richter, MD, PhD
11:35am-11:45am
Comparative Study of the Alignment of the Hindfoot and Position of the First Metatarsal and Sesamoid of Hallux Valgus with WBCT and WB X-Ray.

 

Jian-Zhang Zhang, MD, PhD
11:45am-11:55am
Cartilage Imaging with Low Dose WBCT

 

Oliver Michelsson, MD
11:55am-12:05pm
Comparison Between X-Ray and Weight Bearing Simulation CT on Varus-Type Stage B Osteoarthritis of the Ankle

 

Kiyonari Tomiwa, MD
12:05pm-12:10pm
Closing Remarks: The Future of WBCT

 

Francois Lintz, MD, FEBOT
12:10pm-12:20pm
Discussion
Alexej Barg; Francois Lintz,
Please join CurveBeam at our AFFAS 2019 Lunch Symposium on October 11,  and be sure to attend the International WBCT Society's Symposium on October 12. Both events feature renowned orthopedic foot and ankle specialists who will be sharing their expertise on industry-relevant topics.