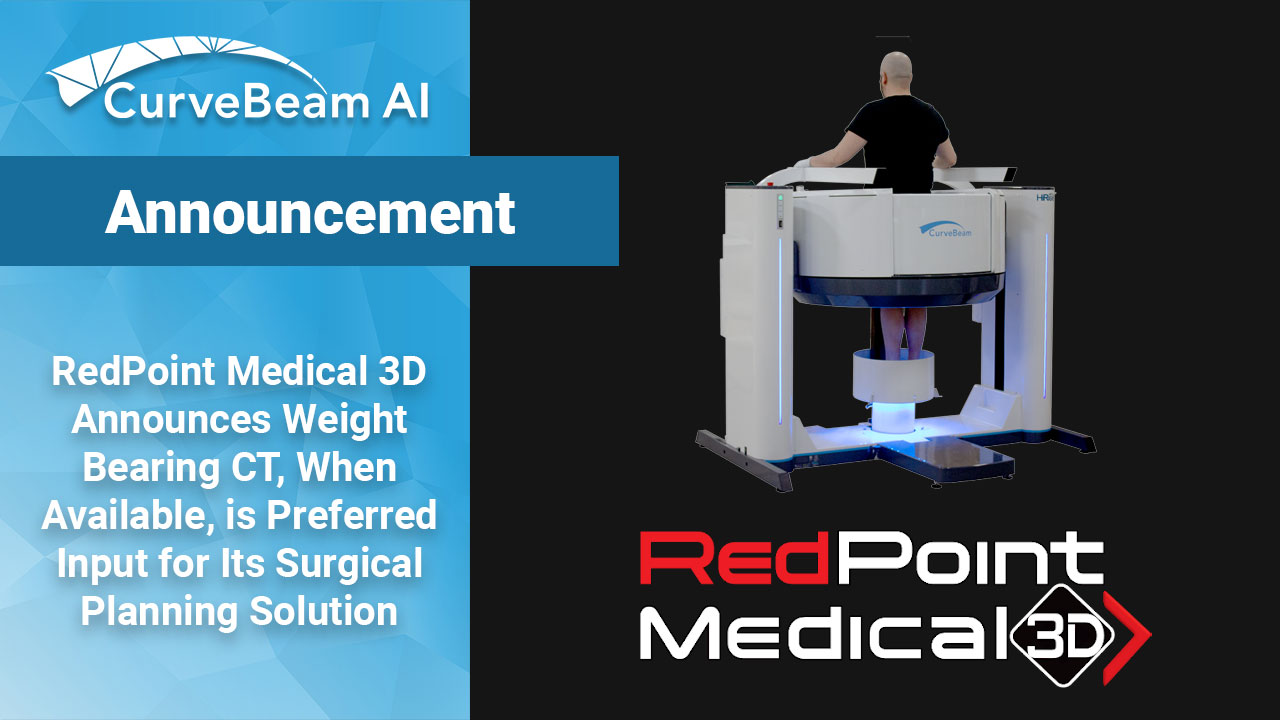 RedPoint Medical 3D Announces Weight Bearing CT, When Available, is Preferred Input for Its Surgical Planning Solution
<Hatfield, Penn – January, 31, 2023> RedPoint Medical 3D (RPM-3D) announced that, when available, weight bearing computed tomography (WBCT) imaging is the preferred imaging input for its advanced surgical planning tools and patient-specific cut guides.
RPM-3D's groundbreaking technology converts computed tomography (CT) scan data into a manipulatable 3D model using proprietary AI-enabled auto segmentation software, IntelliPrint 3D printed anatomic maps (BoneCloneTM ) and the surgeon's input to perform a full digital rehearsal of the deformity correction leading up to the actual surgery. A 3D printed patient-specific cutting guide is provided along with customized instrumentation to help achieve a flawless execution of the planned surgical correction.
RPM-3D requires advanced 3D imaging to build accurate anatomic models necessary for its planning process. Standard weight-bearing X-Ray data alone is not sufficient to produce detailed anatomic mapping.
Since its introduction in 2012, WBCT imaging is gaining ground as a modality of choice to best evaluate foot and ankle conditions including hallux valgus (bunions), progressive collapsing foot disorder (flat foot), complex angular deformities of the hindfoot and ankle, and functional assessments of traumatic injuries such as syndesmotic (high ankle sprain) pathology.
RPM-3D recognizes this modality as a preferred data input for its planning process when available.
"WBCT imaging is a necessary step into the future of advanced deformity correction planning due to its ability to capture the influence of gravity on a symptomatic anatomic segment." said Adam D. Perler, DPM FACFAS, co-founder and Chief Innovation Officer for RPM-3D.
Patients stand fully upright in a WBCT scanner, allowing bone and joint alignment to be appreciated in a 3D functional position. Conventional medical CT (MDCT) imaging systems scan the patient while they are laying down (in supine position). While the output data of MDCT is three dimensional in nature, accurate biomechanical alignment of the patient's anatomy cannot be appreciated.
CurveBeam AI's HiRise WBCT imaging system can scan the entire legs, including hips and pelvis, while the patient is standing upright.
Several surgeons currently using RPM-3D incorporate CurveBeam AI WBCT technology in their surgical planning for deformity corrections.
RPM-3D received FDA 510(k) clearance in June of 2022 for its psi-based IntelliguideTM system which includes the Better Bunion family, a patient-specific bunion surgical planning system. RPM-3D provides custom surgical planning and cut guides for bone osteotomies and deformity reductions for both adult and pediatric patients to the age of 13.
Visit CurveBeam AI at Booth #535 and RedPoint Medical 3D at Booth #1212 at the ACFAS 2023 Scientific Conference in Los Angeles, February 9 -12, 2023.
About RedPoint Medical 3D
RedPoint Medical 3D (RPM-3D) is part of the growing Patient Specific Instrumentation (PSI) industry and received FDA clearance as the first patient-specific instrumentation (PSI) based company to market patient-specific bone cutting guides for use in foot and ankle reconstructive surgeries such as bunion correction, foot and ankle osteotomies, and deformity correction fusions. RPM-3D provides custom surgical planning and cut guides for bone osteotomies and deformity reductions for both adult and pediatric patients to the age of 12. For additional information regarding RPM-3D and the Company's revolutionary systems, visit www.redpointmedical3D.com
About CurveBeam AI
CurveBeam AI specializes in cone beam CT imaging and complementary AI applications for orthopedics and bone health. CurveBeam AI's global operations headquarters for product development, Regulatory, manufacturing and operations including marketing, sales and customer care are in Hatfield PA, USA. CurveBeam AI's corporate office in Melbourne, VIC, Australia, covers AI research & development, corporate finance, and IP functions. CurveBeam AI, which has over 50 employees, is an unlisted Australian public company backed by several major professional investors and is targeting an Initial Public Offering in 2023.