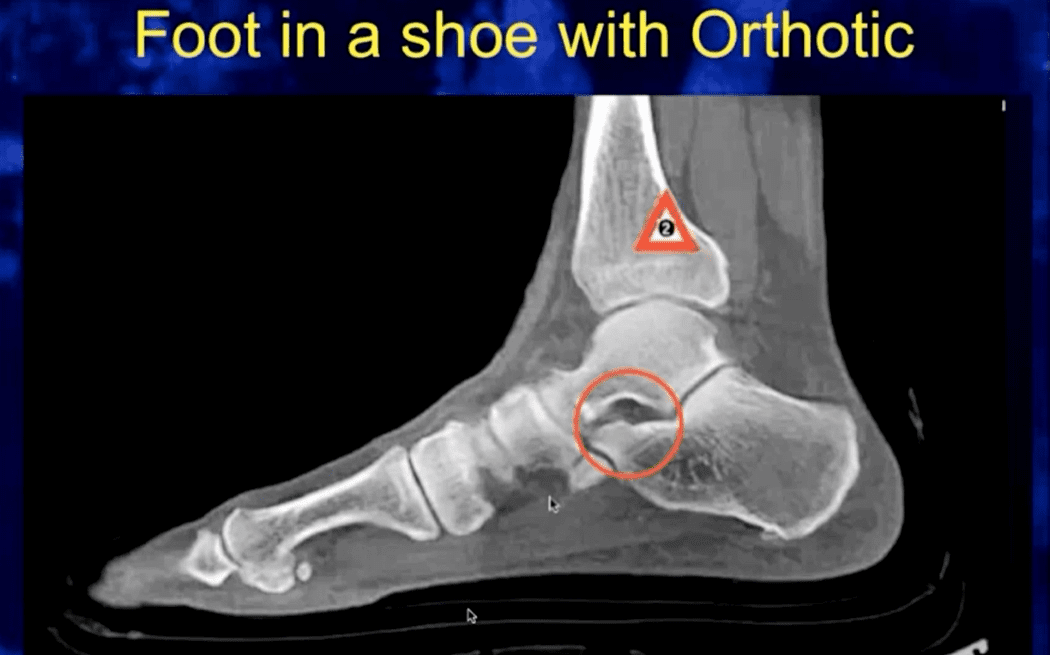 Webinar Recap: "Using Weight Bearing CT to Guide Clinical Decisions"
Dr. Steven K Neufeld, MD, presented "Using Weight Bearing CT to Guide Clinical Decisions" on FOOTInnovate™  in late 2015. In one of his opening statements, Dr. Neufeld described why he decided to give the webcast: "This talk was put together really out of my enthusiasm and excitement and interest in this technology."
The pedCAT saves time
"… (It's) quicker for me to get a cat scan in my office, and show the results to my patient," Dr. Neufeld said.  By the time the patient leaves the X-Ray room and gets back to the exam room, the images are ready.
Also, it helps streamline his pre-op planning. "I don't have to send the patient to the hospital for a CT. I don't have to schedule another appointment to review the results," he said. "All the information is right there. It also saves the patient money. The cost of a CT scan in my office is much less than a big hospital or institution."
Immediate feedback to the patient also helps put the patient at ease. "The patient feels comfortable with me, that I have a plan and that I know what we were going to do, and I go in there and I execute it," Dr. Neufeld said.
The in-office workflow has improved accuracy and consistency in imaging for him as well, "Instead of getting a standard Saltzman or heel view … the weight bearing CT scan is much easier for the technician," he said. "You don't have to position the foot in any particular way, you don't have to angle your beam in a particular way. You just have them stand on the machine and you then push the button, and you can determine alignment very easily."
The pedCAT aids in definitive diagnosis and evaluation
In his webcast, Dr Neufeld proposed the following: "Based on our knowledge, it's pretty much understood that the standard of care for any Orthopaedic foot and ankle or Podiatric evaluation of a foot and ankle problem is a weight-bearing radiograph – at least currently. The big question again is: does this X-Ray give enough?"
When it comes to alignment, weight-bearing is deemed necessary to properly evaluate the ankle under load. This is especially true when superimposition of structures does not allow you to properly determine position, rotation, translation, and joint space. In the case shown below, only weight-bearing CT allows you to see the impingement in the subtalar region; a 2D x-ray would not allow you to properly evaluate the joint spaces.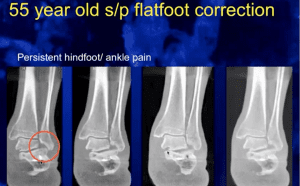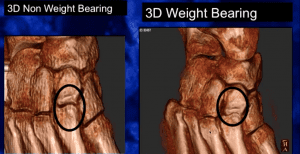 A Total Ankle Replacement (TAR) is another surgical procedure where weight-bearing CT is a must, according to Dr Neufeld. "A non weight-bearing CT scan would really not give me information about the implant position… (The PedCAT is) a great modality for post-op," he said. The convenience of having 3D imaging on hand for follow-up exams, even if they are non-weight-bearing, makes it easier to follow the progress of healing post-op. Failed hardware and non-unions are more readily diagnosed this way.
Dr Neufeld also regularly prescribes weight-bearing CT scans for unknown pain. "The other way that I use weight-bearing CT scan is … sometimes a patient comes in the office, and they just hurt! And you just can't figure it out!" he said. "You know – X-Rays are normal, the exam is very vague … we're all faced with this patient. You just can't figure out what is going on sometimes."
Other uses for his weight-bearing CT include Lisfanc, navicular & other hard to evaluate fractures, sesamoid problems (especially when coupled with Metatarsalgia), and arthritis. The fact that you can scan a foot in a shoe with an Orthotic also makes it easier to determine if the Orthotic is accomplishing what it is supposed to do, as shown in the image below.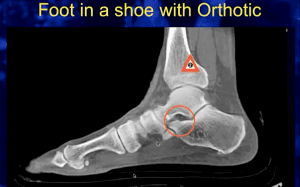 An investment worth the regulatory hurdles
Dr Neufeld, Director of the Orthopedic Foot and Ankle Center in Falls Church, Virginia, began using his pedCAT in August of 2015. The state of Virginia requires medical facilities to obtain a Certificate of Need to purchase CT systems. The approval process can be challenging. However, Dr Neufeld was both persistent and patient in his determination to bring the new weight-bearing technology into his office.
"It is brand new," he said. "There is nothing like it out there in the state. If you can prove and show that this technology is different than what they have out there- you're not competing with the hospitals, you are not competing with the radiology centers – and that it is unique and essential for your practice, then you can put up a fight. And if you have perseverance and some patience, you can get it, and that's what we did."
So why persist? Dr Neufeld's answerer is simple."The PedCAT has been a game-changer for my practice and one of the best investments," he said. "It has really become a crucial part of my practice, and I would say it's probably one of the most profitable, influential investments in modalities that I've added."