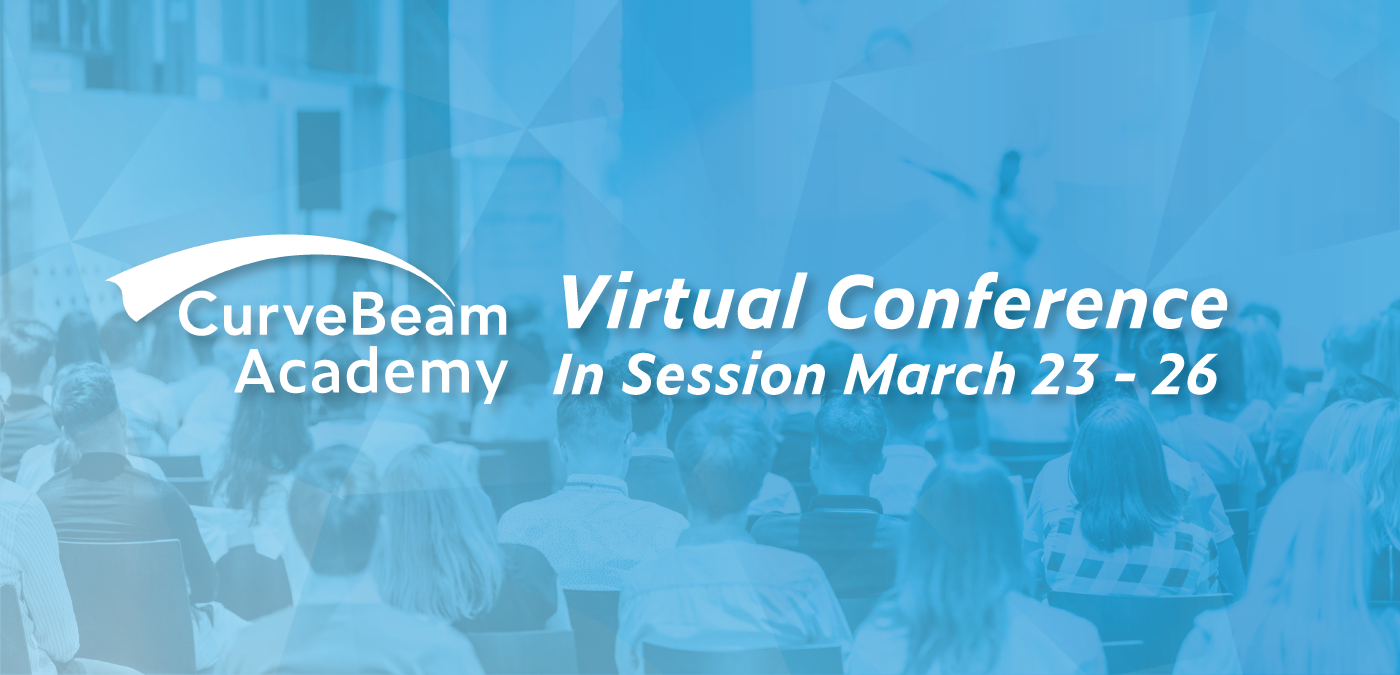 CurveBeam Announces Virtual Conference March 23 – 26
You are invited to attend CurveBeam Academy, an informative 3-day event featuring CurveBeam Reveal Events and expert presentations. Be among the first to preview CurveBeam's new AI-based toolset for automatic segmentation and measurement of 3D foot & ankle data and learn about the next generation of weight bearing CT imaging. Gain practical clinical knowledge and stay abreast of the latest innovations in orthopedics.
Scroll down for a full schedule of events. Session recordings will be made available to all registrants. 
Tuesday, March 24

Introducing CubeVue Autometrics: A.I.-Based Segmentation and Measurement Platform for the Foot & Ankle
Presented by Stuti Singh, Director of R&D Strategy, CurveBeam
Attend CurveBeam's Reveal Event for CubeVue Autmetrics. This web-based platform was developed using deep machine learning and can segment a foot & ankle CT dataset with 98% accuracy. Preview the platform's automated measurement tools, which promise to revolutionize assessment and diagnosis of the lower extremities
Two Opportunities to attend:
Tuesday, March 25: 12 p.m. EST Register Here
Tuesday, March 25: 8:30 p.m. EST Register Here
Monitoring Development of Peri-Prosthethic Cyst Formation After Total Ankle Replacement
Presented Dr. Francois Lintz, MD, FEBOT
A clinical discussion of utilizing weight bearing CT imaging post-operatively to monitor the progression of cystic formation after total ankle replacement. Click here to download a case study on a case study comparing X-Ray vs. WBCT detection of post-operative cyst formation.
Tuesday, March 24: 4 p.m. EST Register Here
Weight Bearing CT Advancements of Forefoot and Syndesmotic Disorders
Presented by Dr. Cesar de Cesar Netto, MD, PhD
A look at how weight bearing CT enables more accurate assessment of biomechanial foot discorders, and how automated measurement tools could further aid diagnosis.
Tuesday, March 24: 6 p.m. EST Register Here
Wednesday, March  25
HiRise: The Next Level of Weight Bearing CT Imaging
Presented by Vinti Singh, Director of Marketing, CurveBeam
Attend CurveBeam's Reveal Event for the orthopedic specialty. This event will demonstrate the full functionality of the HiRise, a weight bearing CT imaging system for the entire lower leg. Attendees will also get a first look at the images acquired during R&D testing.

Two opportunities to attend:
Wednesday, March 25: 12 p.m. Register Here
Wednesday, March 25: 8:30 p.m. EST Register Here
Weight Bearing CT – The Current Evidence and Where its Going
Presented by Dr. Martinus Richter, MD, PhD
A review of the current scientific evidence supporting Weight Bearing CT imaging and future directions for innovation. Click here to order the first text book published on weight bearing CT imaging.
Wednesday, March 25: 3 p.m. EST Register Here
Thursday, March 26
Weight Bearing CT Imaging of the Knee: Present & Future Applications
Presented by Jenna Roller, PA-C, Clinical Applications Director, CurveBeam
A look into how in-office, weight bearing CT compares to traditional x-ray exams as well as a glimpse into how hip & knee WBCT scans could propel total knee replacement pre-operative planning into the future.
Thursday, March 26: 12 p.m. EST Register Here

On Wheels: Designing a Mobile Imaging Suite to Serve Multi-Location Practices
Presented by Turner Dean, COO, CurveBeam Mobile
Considerations for the design and operation of a mobile imaging truck, and a discussion of how going mobile can create operational efficiencies and financial returns.
Thursday, March 26: 4 p.m. EST Register Here

The Benefits of In-Office CT Over Traditional X-Ray
Presented by Dr. Glenn Gaston, MD
In-office low dose CT can improve assessment and diagnosis of common upper extremity conditions. A case review of practical clinical applications.
Thursday, March 26: 8:30 p.m. EST Register Here