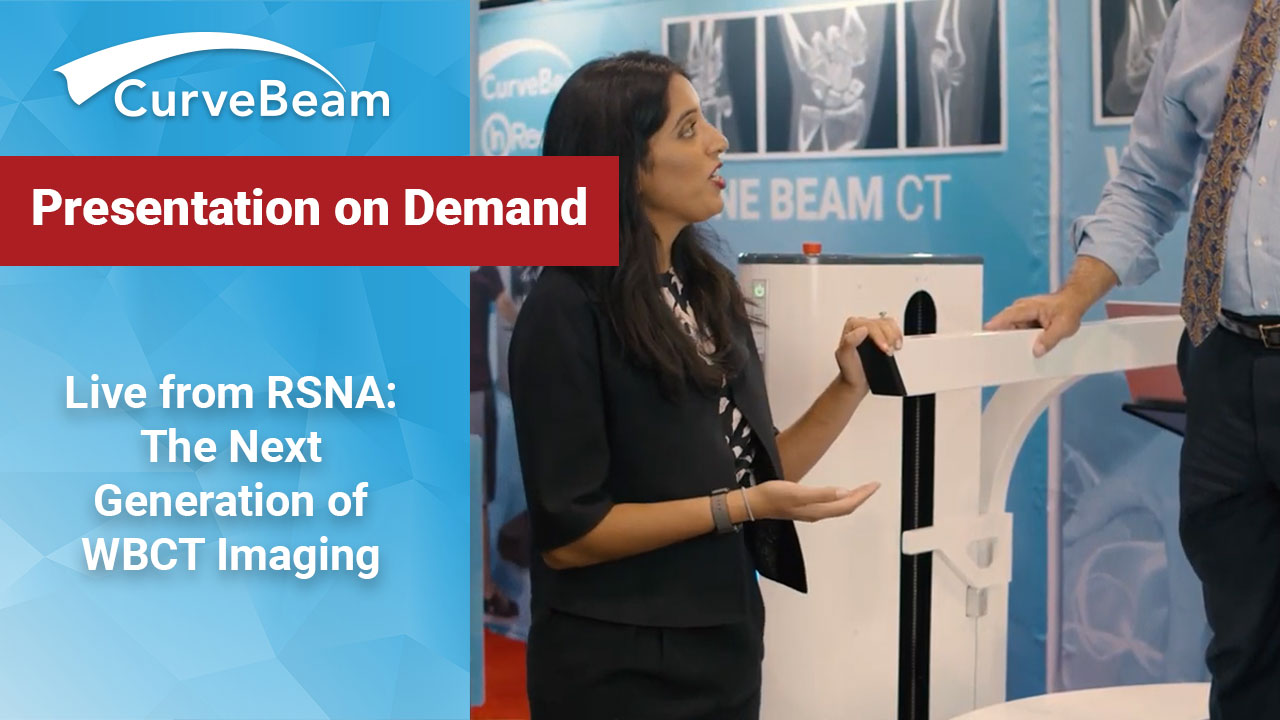 CurveBeam HiRise – Live Demo of the Next Generation of WBCT Imaging
At CurveBeam, we pride ourselves on  being at the forefront of weight bearing CT (WBCT) technology. The next product in CurveBeam's family of innovative systems has arrived.
Introducing the HiRise, the next level of weight bearing CT imaging. HiRise is investigational only and is not available for sale.
Vinti Singh, CurveBeam's own Director of Marketing, demonstrated the HiRise for visitors at RSNA 2019.
What makes HiRise so revolutionary?
The CurveBeam HiRise is the industry's first solution for capturing bilateral, weight bearing CT imagery of the hip and pelvis.
The HiRise will provide high-resolution, high-contrast imaging of the hip and pelvis that allows for cutting-edge orthopedic care.
Leveraging a rising gantry that surrounds the patient being scanned, the HiRise allows for long-leg views of the entire lower extremity.
The HiRise is also self-shielded, plugs into a standard wall outlet, and offers the largest patient platform in its class at 35 centimeters. The gantry rises high enough to accommodate patients well above 6 feet tall.
Best of all, like CurveBeam's other solutions, the HiRise is simple to use, offering a fast track to revolutionary orthopedic care.
Providing Complete Care with CurveBeam
The HiRise is yet another addition to CurveBeam's industry-leading solutions for weight bearing extremity imaging, joining the pedCAT, LineUP and InReach in helping you achieve the weight bearing difference.
With 3D, weight bearing imagery and software that can help you analyze and act upon the insights it provides, you can improve diagnostic information, achieve better patient outcomes and streamline your practice's workflow and operations.
To learn more about CurveBeam and the HiRise, visit curvebeamai.com/.