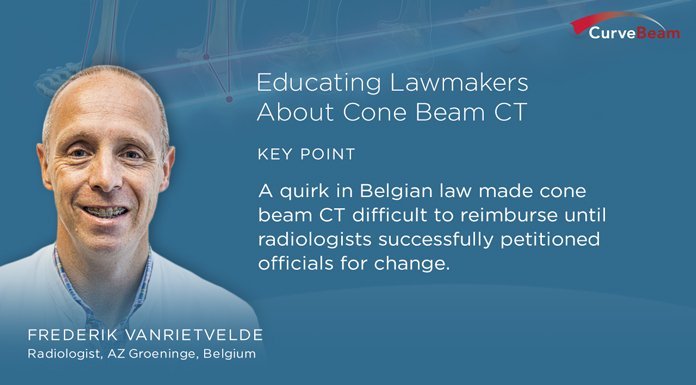 CurveBeam Connect: Educating Lawmakers About Cone Beam CT
Belgian surgeons started using weight bearing cone beam CT several years ago.
Then, radiologists like AZ Groeninge's Dr. Frederik Vanrietvelde suddenly had to shift use of the modality because of price concerns, since cone beam CT was suddenly left off a crucial reimbursement list made by legislators.
Vanrietvelde and some colleagues in the Belgian Society of Radiology lobbied to change the rule, noting that it met the definition of a CT scan.
Click here to view an article Dr. Vanrietvelde authored for his hospital newsletter to to educate orthopedic surgeons about weight bearing CT imaging.
"If you look very closely, you could tell cone beam CT also corresponds to these particular parameters they use, so it should have been on this list, anyway," he said. "So, there was really no reason why it shouldn't be on the list, and they really never argued that what we were asking was not correct. They simply said, 'Sorry, we forgot it. We have to correct it.'"
Even still, the process took two years for hospitals to once again be able to bill cone beam CT in the same way they were billing a traditional CT scan. Now, cone beam CT has its own subcategory for reimbursement, as well as a list of approved indications.
Still, Vanrietvelde is confident their numbers will grow now that the scans are more accessible, and he said the most important thing was to put himself into others' shoes.
"It's always a difficult balance you have to do as a legislator. I'm thinking as a radiologist, and the patient is thinking as a patient. A legislator has to think as a legislator and think about budget balance, so my main advice would be come together," he said. "Let's get all those people together with different mindsets and different perspectives before you decide how to reimburse something."
Subscribe to CurveBeam Connect on Apple Podcasts or Spotify.