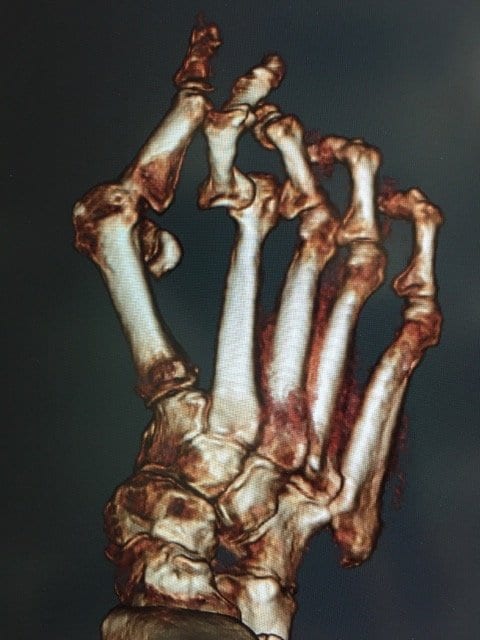 CurveBeam: Moving Orthopedics Forward
Scroll to the bottom of this post to access a technical comparison chart of the CurveBeam LineUP* and similar systems from other vendors.
If you're part of a forward-thinking orthopedic practice, you're constantly looking for ways to offer the best in patient care, while also improving operations.
Cone Beam CT imaging is an attractive ancillary service because 3D extremity imaging provides physicians a better view of fractures, dislocations, and arthritic degeneration than plain radiographs. Point-of-care CT imaging is also convenient for patients, as they do not need to make an appointment for and travel arrangements to a separate imaging facility.
Administrators may vet more than one Cone Beam CT imaging vendor when determining which solution is the best fit for their practice.
As you complete your evaluation, we'd like to emphasize three things that set CurveBeam apart:
Emphasis on customer service – The CurveBeam team lives by the credo of going above and beyond to exceed our customers' expectations. We work closely with all stakeholders during the pre-installation process and regularly follow up to proactively assist with ongoing workflow, IT or marketing items. We are vested in making sure each of our sites successfully integrates our technology.
Fair and standard pricing – We are transparent in our pricing. We have a published, standard price for each system and we work hard to keep costs as low as possible. We don't believe in inflated list prices that only serve as a negotiation tactic.
Commitment to innovation – We are constantly looking to the future to improve performance and usability in all aspects. We either make system upgrades standard or easily achievable within an operating budget so that you can always be on the cutting edge.
To further help you in your evaluation process, CurveBeam has put together a chart comparing the CurveBeam LineUP* with similar systems from other vendors. Just provide your name and email address to have it sent directly to your inbox.
*The CurveBeam LineUP is investigational only and is not available for sale in the United States.
Enter your email address below to email a copy to yourself.
[email-download-link namefield="YES" id="3″]