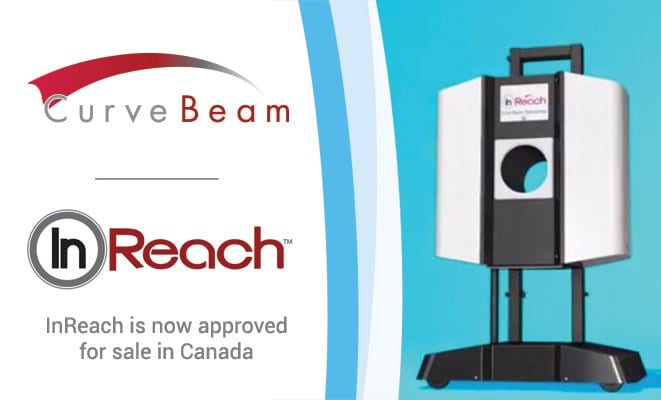 Health Canada Approves CurveBeam's InReach Cone Beam CT
March 26, 2018 – Warrington, Penn. – CurveBeam announced the InReach cone beam CT system for orthopedics has been approved by Health Canada regulatory authority for sale in Canada.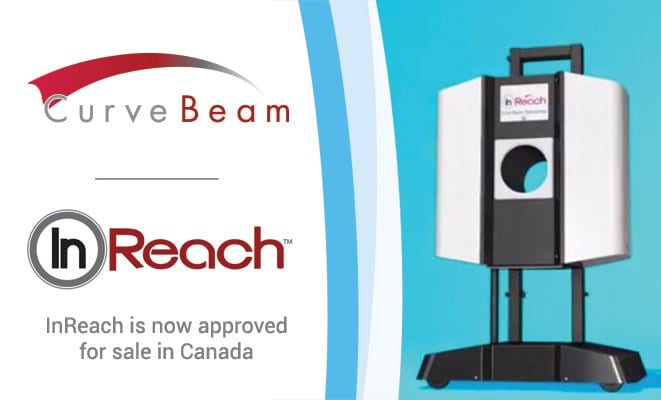 The InReach is primarily designed for the hand, wrist &elbow; & lower extremities in non-weight bearing position. The InReach is an ultra-compact CT scanner that provides high-contrast 3D datasets of bony anatomy, which could potentially replace radiographs as a first line of diagnosis.
The InReach is ideal for the point-of-care, imaging centers, and hospital orthopedic departments because of its small footprint, its self-shielded design, and standard power requirements.
"The InReach will revolutionize the speed and accuracy of assessment of upper extremity conditions that specialists have traditionally found challenging to diagnose with plain X-Ray, such as scaphoid fractures," said CurveBeam President & CEO, Arun Singh. "The InReach continues the company's mission to elevate advanced diagnostic imaging capabilities to enhance orthopedic care."
The InReach is designed with patient comfort in mind. Patients' hand, wrist or elbow is positioned in a height-adjustable bore while in standing or sitting position. The unit can also accommodate non-weight bearing, lower limb imaging. Scan times are less than 30 seconds.
The InReach device is supplemented by CubeVue, CurveBeam's custom visualization software.  CubeVue gives orthopedic specialists to multi-planar slice navigation tools and vivid 3D renderings of the anatomy previously not easily accessible to specialists. CubeVue's Insta-X feature provides Digitally Reconstructed Radiographs, potentially eliminating the need for radiographic exams altogether.
The InReach is the second extremity CT imaging system CurveBeam has introduced to Canada. CurveBeam's pedCAT system permits weight bearing CT imaging of the feet and ankles.
The InReach system was cleared by the US FDA for sale in the United States in 2017.
CurveBeam is the leader in Weight-Bearing extremity CT imaging, starting with the introduction of its pioneer product, the pedCAT, in 2012. The pedCAT is the only CT system that allows for bilateral, true weight-bearing imaging of the lower extremities. Since 2012, the pedCAT has been integrated into leading foot & ankle orthopedic and podiatric practices around the world.
CurveBeam is currently developing its next generation multi-extremity device, the LineUP, which will provide bilateral Weight-Bearing images of the knees in addition to feet, as well as hand, wrist & elbow.