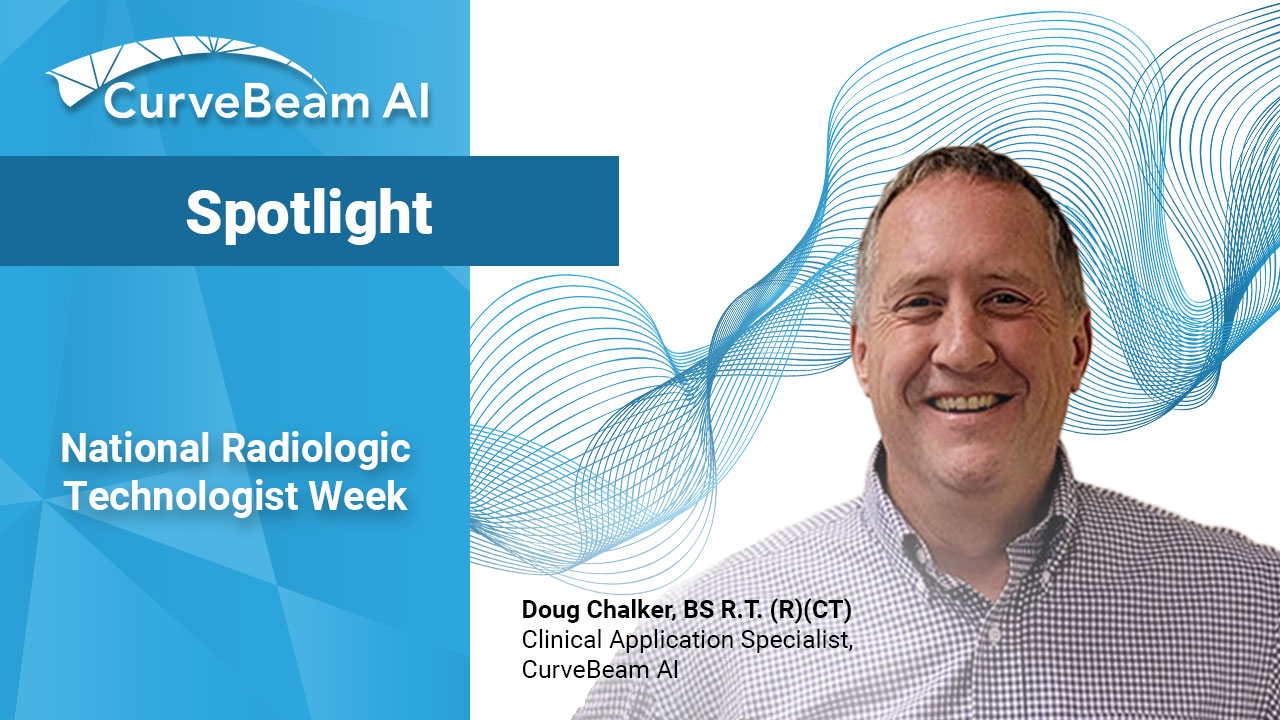 Doug Chalker, BS R.T.(R)(CT): A Journey Through Radiologic Technology
In the realm of radiologic technology, there are professionals who stand out not just for their skills but also for their unwavering commitment to their field. This National Radiologic Technology Week, CurveBeam AI recognizes Clinical Applications Specialist, Doug Chalker, whose career in diagnostic imaging spans over three decades and several hospitals. His journey is a testament to the dedication, passion, and constant evolution that defines the world of radiologic technology.
A Career That Started in the Night
Doug's journey in radiologic technology began at Doctors Hospital in Columbus, Ohio. Fresh out of school, he embarked on his career working the demanding 3rd shift while simultaneously pursuing his bachelor's degree in Allied Health Professions at Ohio State University. The pursuit of knowledge and dedication to his craft marked the early steps of his journey.
Adventures in Cincinnati
After getting married, Doug and his wife moved to Cincinnati, Ohio. Here, he briefly worked as a radiologic technologist at Christ Hospital, laying the foundation for his career. His next role was at St. Elizabeth Medical Center in Edgewood, Kentucky, where he operated as an X-Ray/CT tech, contributing his expertise to the healthcare landscape.
A 20-Year Commitment
The bulk of Doug's career was spent at Mercy Medical Center in Batavia, Ohio. Located closer to his home, this institution became his professional home for two decades. His commitment to Mercy Medical Center showcased his loyalty and dedication to the hospital and the patients it served.
Educational Pursuits
Education has always been at the forefront of Doug's journey. He became a registered radiologic technologist in 1992 after graduating from Kent State University with an associate's degree in radiology. This was only the beginning. Doug furthered his academic achievements by earning a bachelor's degree from Ohio State University in 1994.
Memorable Moments
While Doug has countless memories from his time as an RT, some of the most unforgettable ones include working with students and the exhilarating experiences of the operating room and trauma room. The fast-paced, high-stakes nature of these environments provided an adrenaline rush like no other.
One of Doug's most cherished memories while with CurveBeam AI is at the Paley Institute, where he trained for one of his first accounts. Witnessing their incredible work in helping children with severe deformities worldwide left a profound impact on him. He recalls asking a technologist, "How do you do this every day?" Their response, "It's tough until you see these children walk out with smiles after a few months, knowing you played a part in changing their lives." This motivation keeps him going.
National Radiologic Technology Week
For Doug, National Radiologic Technologist Week is more than just an event; it's a celebration of respect and appreciation for the dedicated professionals who have chosen a career in diagnostic imaging. It's a time to honor the skills and commitment that go into providing vital medical imaging services to our communities. It's also an opportunity to celebrate the incredible advancements in the field and look forward to the exciting changes yet to come.
Doug Chalker's journey through radiologic technology is a testament to the dedication, passion, and pursuit of excellence that defines this field. As we celebrate National Radiologic Technology Week, we honor professionals like Doug who have made a significant impact on healthcare and continue to shape the future of diagnostic imaging.