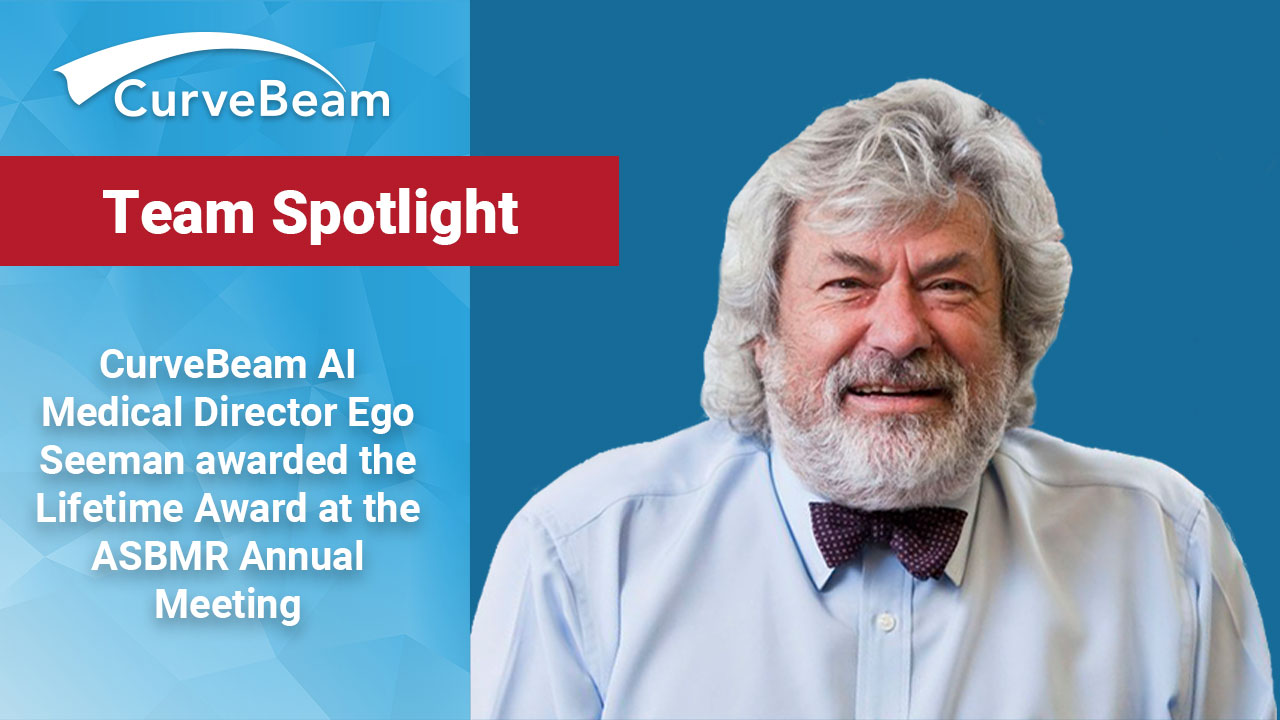 CurveBeam AI Medical Director– Endocrinology Receives Prestigious Award at ASBMR 2022 Annual Meeting
CurveBeam AI Medical Director – Endocrinology Ego Seeman was awarded the Gideon A. Rodan Excellence in Mentorship Award at The American Society for Bone and Mineral Research (ASBMR) 2022 Annual Meeting in Austin, Texas earlier this month.
Ego Seeman is a Professor and Endocrinologist in the Departments of Medicine and Endocrinology, Austin Health, University of Melbourne.
The Gideon A. Rodan Excellence in Mentorship Award is given annually in recognition of outstanding support provided by a senior scientist who has helped promote the independent careers of young investigators in bone and mineral metabolism.
"I thank the ASBMR Society for this recognition and great honor," Prof. Seeman said. "If I have passed on only a tiny amount of the courage, intellectual rigor, imagination, and scholarship given to me by my teachers, then I feel truly blessed. "
Prof. Seeman completed his postdoctoral training under the mentorship of Professor BL Riggs of the Mayo Clinic.  He has worked in the field of bone biology for 40 years studying the epidemiology, pathogenesis and treatment of bone fragility.  His work has examined the role of growth of peak bone mass, macro- and micro-architecture as a forerunner of bone fragility in old age, the heritable nature of bone morphology in studies of twins and the offspring of women and men with osteoporosis. He emphasized the need to study the hierarchical morphological basis of bone fragility in the pathogenesis of bone fragility and the public health problem of osteoporosis in men as well as women.  He is a past President of the ANZBMS, Associate Editor of Osteoporosis International, and has authored over 400 publications.
"Prof. Seeman has had a long and distinguished career over the last 40 years in endocrinology," said CurveBeam AI CEO Greg Brown. "CurveBeam AI is proud to have this depth of knowledge and experience to help guide us to continually challenge ourselves to offer new imaging tools to help advance diagnostics in the field."
Prof. Seeman's past awards include the Bartter Award from the ASBMR, Distinguished Scientist award from the Austin hospital, Medal of Achievement and Presidents Award from the IOF, Haddad Award from IBMS, Inaugural Career Achievement Award from ANZBMS and Member of the Order of Australia.