Axial Alignment Made Easy
In an age where more is always available, the tools that simplify and streamline our workflows are often most valuable. Given the recent opportunity to explore weight bearing, multiplanar images from the hip through the foot, CurveBeam AI recognized our customers' need to expedite the analysis. Axiometrics (patent pending) is a software tool that enables the semi-automatic measurement of the axes of rotation of the hip, femur, knee, and ankle.
Investigational only; not available for sale.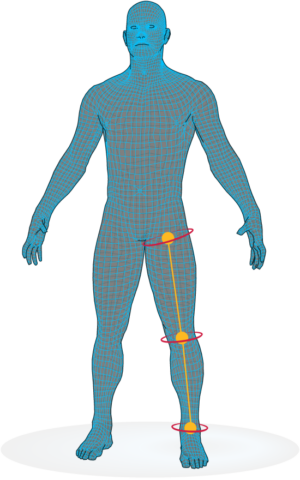 Why It Matters
Femoral anteversion can have long term consequences if it does not correct as a child grows. In the adult population, it can cause instability, damage of the articular cartilage and acetabular labrum, and eventually osteoarthritis (Buly 2018). Similarly, tibial torsion can impact gait and muscle function leading to joint overload and altered patellofemoral mechanics (Snow 2021).
Because we have a poor understanding of axial alignment issues, it is likely that the aetiology of many MSK pathologies have been poorly understood. From a diagnostic perspective, two dimensional radiographs are inaccurate to measure axial (transverse) plane alignment (Maderbacher 2021). CT, MRI, and EOS have all been utilized for different advantages. CT provides axial plane information, but it is not weight bearing or low dose. MRI offers no radiation but a long exam time. EOS is low dose and fast, but it does not generate multi-planar information.
Prior to the HiRise, weight bearing, multi-planar images were not available for assessing these types of deformities. The best we could do clinically were weight bearing, 2D X-rays, followed by a supine CT to provide the 3-dimensional, axial plane information. Now, both are available in a single, low-dose, radiology exam. This will enable further evaluation of normal values as well as weight bearing and functional factors to consider when determining if surgical intervention is advisable.
For example, patellofemoral disorders, pes planus, and lower limb soft tissue injuries, may all be secondary to tibial torsion or hip version issues as well as asymmetry between limbs and may lead to the development of unilateral joint arthritis.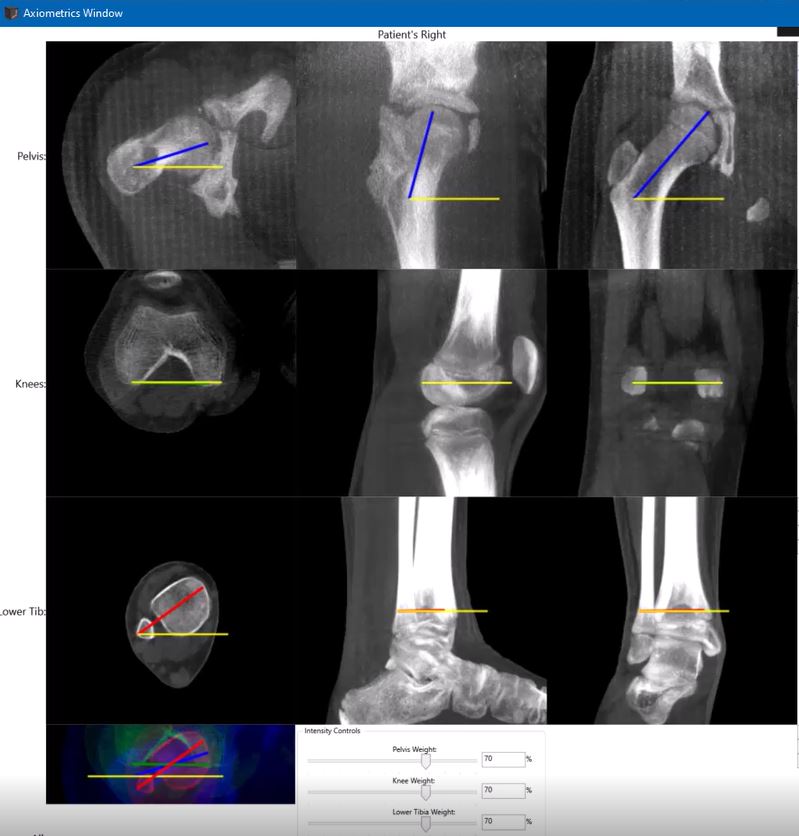 Talk to an Expert

If you're interested in learning more about Axiometrics and getting updates as CurveBeam AI finishes developing this AI based tool please fill out this form. We will be sure to reach out with more information and keep you up to date with all of the latest news regarding Axiometrics.
References
Fabry G, MacEwen GD, Shands AR. Torsion of the femur. A follow-up study in normal and abnormal conditions. J Bone Joint Surg Am 1973; 55: 1726–38.
Kate BR. Anteversion versus torsion of the femoral neck. Acta Anat (Basel). 1978;94 (3): 457-63.
Argenson JN, Flecher X, Parratte S, Aubaniac JM. Anatomy of the dysplastic hip and consequences for total hip arthroplasty. Clin Orthop Relat Res. 2007;465:40-5
Jacquemier M, Glard Y, Pomero V et al. Rotational profile of the lower limb in 1319 healthy children. Gait Posture 2008; 28: 187–93.
Hoaglund FT, Low WD. Anatomy of the femoral neck and head, with comparative data from Caucasians and Hong Kong Chinese. Clin Orthop Relat Res 1980; 152: 10–6.
Saikia KC, Bhuyan SK, Rongphar R. Anthropometric study of the hip joint in northeastern region population with computed tomography scan. Indian J Orthop 2008; 42: 260–6.
Botser I, Ozoude G, Martin D, Siddiqi A, Kuppuswami S, Domb B. Femoral Anteversion in the Hip: Comparison of Measurement by Computed Tomography, Magnetic Resonance Imaging, and Physical Examination. Arthroscopy: The Journal of Arthroscopic and Related Surgery, Vol 28, No 5 (May), 2012: pp 619-627
Litrenta J, Domb B. Normative data on femoral version. Journal of Hip Preservation Surgery 2018. Vol. 5, No. 4, pp. 410–424
Bernasconi A, Najefi A, Goldberg AJ. Comparison of Mechanical Axis of the Limb Versus Anatomical Axis of the Tibia for Assessment of Tibiotalar Alignment in End-Stage Ankle Arthritis. Foot Ankle Int. 2021 May;42(5):616-623
Buly RL, Sosa BR, Poultsides LA, Caldwell E, Rozbruch SR. Femoral Derotation Osteotomy in Adults for Version Abnormalities. J Am Acad Orthop Surg. 2018 Oct 1;26(19):e416-e425. doi: 10.5435/JAAOS-D-17-00623. PMID: 30106763; PMCID: PMC6147096.
Snow M. Tibial Torsion and Patellofemoral Pain and Instability in the Adult Population: Current Concept Review. Curr Rev Musculoskelet Med. 2021 Feb;14(1):67-75. doi: 10.1007/s12178-020-09688-y. Epub 2021 Jan 8. PMID: 33420589; PMCID: PMC7930175.
Ahrend, MD., Baumgartner, H., Ihle, C. et al. Influence of axial limb rotation on radiographic lower limb alignment: a systematic review. Arch Orthop Trauma Surg 142, 3349–3366 (2022). https://doi.org/10.1007/s00402-021-04163-w